Leaf Relief Gutter Cover Installation in Green Bay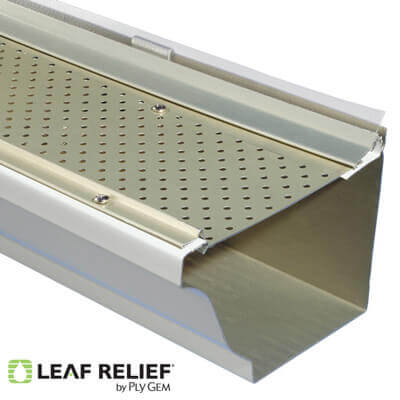 Prevent build-up, clogging and drainage problems with Leaf Relief Gutters
As a certified dealer of Leaf Relief gutter protection systems, our team works within all manufacturer requirements to guarantee proper installation and keep your warranty valid. All Leaf Relief gutter protection systems installed by Overhead Solutions are insured with a 25 year no-clog, no-overflow warranty.
Prior to installing your Leaf Relief system, our Wisconsin gutter cleaning services will clear and assess your gutters, realigning where necessary. We custom fit and secure your gutter cover to ensure peak performance.
Stop cleaning your gutters - install Leaf Relief gutter protection!
Leaf Relief gutter covers invisibly fit on top of your gutters, and prevent leaves and twigs from creating clogs. This innovative gutter protection system fits most standard gutters and features the following characteristics:
Resistant to UV light, mold and mildew
Withstands extreme weather
Drains up to 29.7" of rain an hour
Available in half round and copper
Our Leaf Relief keeps gutters clear and drain water for 25 years of use! Get a FREE quote from our gutter installation company now and never worry about cleaning out your gutters again.