Clay Tile Roofing Contractor
Commercial Roofing >> Clay Tile Roof
Clay Tile Roof Installation and Repair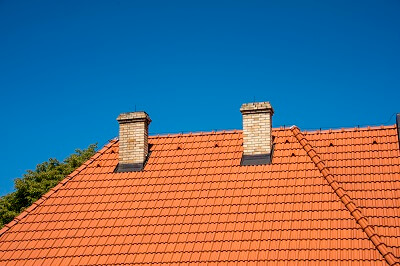 Clay tile has been used as a roofing material for thousands of years. Clay tile roofs not only add aesthetic appeal to a building, they offer exceptional durability and can withstand high winds, hail and snow load. Clay tile roofing also provides excellent insulation, resists moss growth, is fire resistant, and requires little maintenance. Although it is the most expensive roofing system, a clay tile roof can easily last 50 years or more.
Clay tile roofing isn't just for Mission style architecture, and it isn't just for residential buildings. There are a wide range of shapes available now, including flat tiles and shake-style tiles. It is available in more than just the terra cotta colors most people associate with clay tile roofing, too. Obviously, a clay tile roof isn't the right choice for a warehouse or an industrial building, but if the architecture of your business works well with a clay tile roof and your roof can support the weight, a clay tile roof is an excellent choice.
Overhead Solutions installs and maintains clay tile roofs for businesses, churches, museums, and government buildings throughout northeast Wisconsin, including the Fox Valley and Door County. If you're considering clay tile, get in touch with our Green Bay roofing contractors. We can assess your roof to determine if clay tile is a viable option and provide you with a free, no-obligation estimate.