Polyurethane Flat Roof
Polyurethane Flat Roof Roof Repair and Installation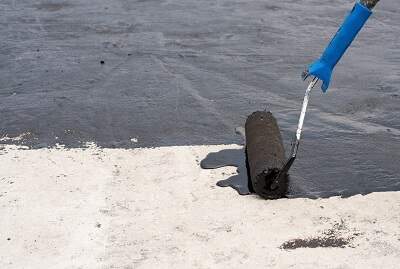 When we say "polyurethane flat roof," we're referring to a polyurethane liquid membrane that is applied to concrete, cement and terrazo flat roof surfaces to waterproof them, or to seal cracks on a flat roofing system. This is an extremely cost-effective method for waterproofing many types of roof surfaces, primarily on commercial and industrial buildings but also on residential structures.
Application of the polyurethane is done by brush or roller in three layers over the course of two days. The surface is first cleaned, any cracks or holes are filled and leveled, followed by the application of a primer coating to the entire surface. After the primer dries, two coats of the liquid polyurethane membrane are applied using rollers.
Waterproofing with polyurethane creates a continuous layer of an elastic membrane with no joints or seams. The result is a protective coating that has excellent resistance to weathering, UV rays, and standing water—even in difficult areas like corners and around roof vents. These coating also withstand foot traffic.
Overhead Solutions Green Bay roofers apply and maintain waterproof polyurethane liquid membrane coatings for businesses throughout northeast Wisconsin, including the Fox Valley and Door County. If you have questions about the suitability of this coating for your roof, get in touch with us. We can assess your roof, provide a free estimate, and offer suggestions on other options available to you.