Average Roof Cost in Green Bay
Green Bay residents can expect to spend anywhere from $4,300 to $34,000 for a full roof replacement. Roof cost largely depends on the size of the roof, the roof's architecture, roofing materials, and the roofing contractor you hire. Contact Overhead Solutions today for an official quote on your Green Bay or Northern Wisconsin roofing project.
Roof Pricing Factors
The size of the roof is the biggest variable considered when quoting a roofing project. The larger the roof, the more roofing materials will be required - increasing the price.
The type of roofing material used can significantly impact the cost of roof replacement. Some materials are more expensive than others, and the cost can vary depending on the availability of the material and the specific brand or supplier being used. Usually, the most affordable roofing option on the market is asphalt shingles.
A steep roof is more difficult to work on, which can increase the labor cost of the project. Roofers may need to use safety equipment such as harnesses and ladders, which can add to the overall cost. A steep roof may also require more roofing materials, as there will be more surface area to cover.
Geographical location can impact the cost of roof replacement for a few reasons. The main reason being the cost of living can vary significantly from one region to another. In general, it may be more expensive to replace a roof in an urban area or a region with a high cost of living than in a rural area or a region with a lower cost of living.
Average Roof Replacement Costs in Northern Wisconsin
Roof replacement prices below are based on the average home square footage in each Nothern Wisconsin city.
| | | | |
| --- | --- | --- | --- |
| City | Asphalt | Metal | Cedar Shake |
| Green Bay | $4,391 - $8,154 | $12,915 - $23,985 | $18,081 - $33,579 |
| Appleton | $4,593 - $8,530 | $13,510 - $25,090 | $18,914 - $35,126 |
| De Pere | $4,683 - $8,698 | $13,776 - $25,584 | $19,286 - $35,817 |
| Fond du Lac | $4,086 - $7,589 | $12,019 - $22,321 | $16,826 - $31,249 |
| Oshkosh | $3,769 - $7,001 | $11,088 - $20,592 | $15,523 - $28,828 |
| Neenah | $4,498 - $8,353 | $13,230 - $24,570 | $18,522 - $34,398 |
| Sturgeon Bay | $4,560 - $8,468 | $13,412 - $24,908 | $18,776 - $34,871 |
For the most accurate roof cost estimate please fill out our roofing estimate calculator or contact us today.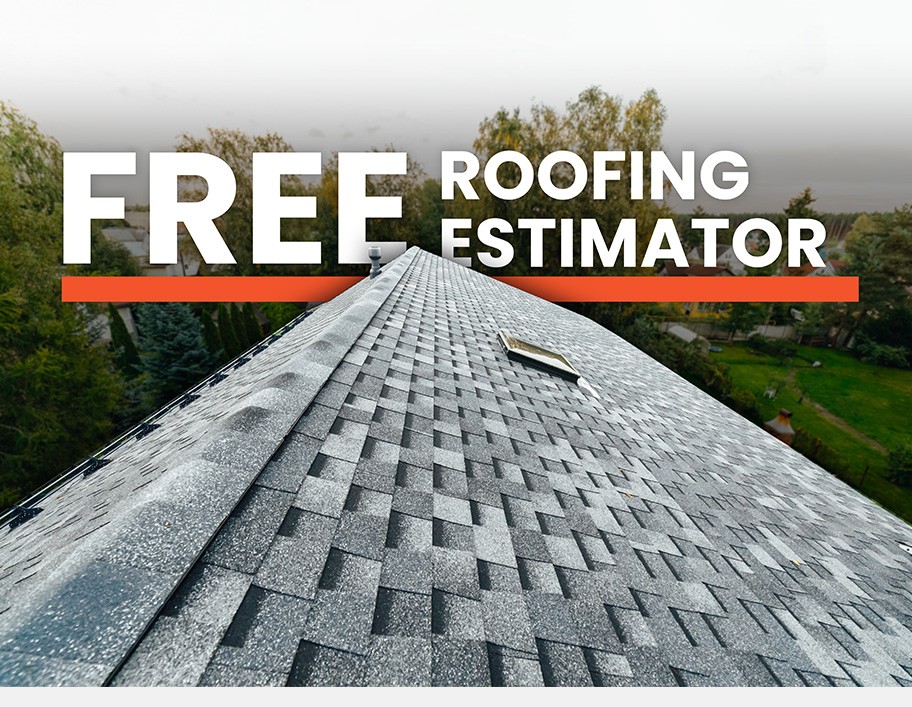 How Much Does it Cost to Repair a Roof in Green Bay?
The cost of roof repair in the Green Bay area will depend on the type and size of the repair. The average homeowner in Green Bay should be ready to pay anywhere from $150 to $2,750+ for a roof repair. If a roof goes untreated for too long, the damage may become irreversible - forcing you to pay for a full roof replacement when you could have originally gotten away with a repair.
What Goes Into a Roof Repair Cost Estimate?
When a roofing contractor quotes the cost of a roof repair, they consider several factors. Although every roofing company is different, most estimators will take into account the following 4 variables when estimating the cost of a roof repair:
Type of Repair:

Simple repairs like addressing leaks might cost in the range of a few hundred dollars. However, when dealing with more extensive damage such as holes, roof decay, or warping, the contractor may need to fix more complex sections of the roof like the underlayment and/or decking, which will lead to an increase in overall expenses.

Size of Repair:

The size of the affected area directly impacts the repair expense. Typical roof fixes in Green Bay, such as replacing missing or damaged shingles, will cost around $15 per square foot depending on the type of material the roof needs.

Type of Materials:

The materials required to fix the damage will strongly influence the overall cost of roof repair. The average homeowner in Green Bay should be ready to pay a cost of around $8 per square foot for asphalt shingles and about $24 for metal roofing material (not including labor costs).

Roof Structure:

The height, configuration, and slope of your roof will all play a role in determining the cost of the roof repair. Roofs with steeper angles and intricate designs demand higher accuracy and safety measures, which can lead to extended repair durations and higher repair costs.
Each roof is unique and every repair will be different. The best way to get an accurate quote for your roof repair is to schedule a free estimate.
Average Roof Repair Cost by Type of Roof Damage
On average, fixing a roof leak will cost in the ballpark of $500. For a minor fix such as replacing the pipe boot, the repair cost could be on the lower end at $150. If the cause of the roof leak is a sagging roof, the repair cost will increase and could be as high as $2,500 or more.
The cost of shingle repair is influenced by the type of shingle and the extent of the damage. Below are the average costs per square foot for the most frequently used roof shingles in Green Bay, WI:
| | |
| --- | --- |
| Roof Material | Repair Cost/Sq. Ft. |
| Asphalt Shingles | $7.78 - $8.15 |
| Designed Asphalt | $11.67 - $12.23 |
| Metal Roofing | $19.46 - $20.38 |
| Wood Roofing | $23.35 - $23.90 |
The prices provided in the roof material table are based on the industry average. The price of roof repair on your home could be higher or lower than the provided data depending on your situation. Get an exact estimate for your roof by contacting us.
The cost to fix roof flashing depends on factors like the flashing material, its installation method, and the extent of repair or replacement required. The cost between repairing chimney flashing and replacing the flashing on your roof's pipe boot could be the difference of a couple of hundred dollars. The average cost of flashing repair in Green Bay is as follows:
Whether your roof needs a repair or a complete replacement depends on how old it is and it's current condition. If a newer ( 10 years or newer ) gets damaged, a repair is usually the most cost effective solution. However, if your roof is old and close to its lifespan end (15-20+ years), it might be in your best interest financially to replace the roof - continuously fixing small parts of an old roof could result in ongoing costs adding up over time, becoming as expensive as getting a new roof. To determine the best choice for your roof, talk to our roof estimators who can give you expert advice.